Empower College Management with
CampX Square
CampX Square is a comprehensive solution designed to transform college administration and management. CampX Square streamlines and automates various processes, making college operations more efficient and effective.
Academic Performance Monitoring
Streamlined Student Fee Payments Management
Attendance Tracking and Reporting

Student Collaboration & Engagement
Revolutionized Student Information Management System
CampX offers a comprehensive suite of features designed to optimize student data management, attendance tracking, academic performance monitoring, and communication within colleges.
Revolutionized Classroom Activities Management System
CampX ClassConnect is a comprehensive classroom management tool that enhances teacher productivity. It facilitates attendance tracking, lesson planning, assignment management, and grading, while promoting seamless collaboration between teachers and students for an engaging learning experience.

Classroom Attendance Management
Classroom Performance Tracking and Analytics

Weekly Timetable & Daily Sessions

Interactive Lesson Plan & Delivery

Multidisciplinary Clubs Management
Club & Events Interactive News Feed
Event Planning and Management

Clubs & Events App Notifications
Nurturing Student Growth through Multidisciplinary Clubs and Events
CampX ActivityHub nurtures student growth through diverse clubs and events, fostering a vibrant and inclusive campus environment. It empowers students to pursue their passions, develop new skills, and engage in meaningful extracurricular activities.
CampX Digital Notice Board
Efficient Communication and Real-Time updates to Students, Faculty
CampX Digital Notice Board modernizes communication in educational institutions with a digital campus feed. It replaces physical notice boards, facilitating seamless sharing of important information, announcements, achievements, events, and club notifications.

Create Digital Posts for College Updates, Achievements
Personalised Notifications to each Class, Batch and Department

Create Polls, Surveys to get Student Opinion, Feedback
Decentralised Posting Feature for Administration and Faculty
CampX Square - Impact on Campus Administration
CampX Square is a game-changer in campus administration, bringing efficiency, transparency, and agility to higher education institutions. Its impact is felt across departments, empowering administrators to optimize operations, make data-driven decisions, and drive overall institutional growth and success.
increase in club and event registrations and engagement through CampX Activity Hub
reduction in administrative tasks through streamlined workflows using CampX Class Connect
of time has been reduced for the faculty by capturing the student attendance through mobile app
decrease in paper usage providing a sustainable alternative for sharing updates to students, faculty
CampX Bird's Eye View Dashboard
The CampX Birds Eye View Dashboard provides a comprehensive and holistic overview of the entire campus ecosystem. The intuitive interface and visual representations enable easy navigation and exploration of campus-wide data, empowering stakeholders to have a clear understanding of various aspects of the institution, including admissions, finance, attendance, and more.
Insights to optimise staff and students
CampX enables administrators and educators to identify areas for improvement, make informed decisions, and implement targeted strategies to optimize the overall functioning of the institution.
Data Driven insights for student attendance
CampX provides valuable data-driven insights and analytics to improve student attendance rates by leveraging attendance tracking systems and data analysis and detailed information on student attendance patterns, trends, and potential areas of improvement. 
Data Driven insights for optimal student enrollment
This feature leverages data analytics and enrollment trends to offer administrators and admission officers a comprehensive understanding of their admissions funnel by analyzing key metrics such as application rates, conversion rates, and demographic trends.
Data-Driven insights for student fee payments
CampX provides institutions with valuable analytics and insights to streamline and improve the student fee payment process by leveraging data analysis and payment trends and potential areas of improvement.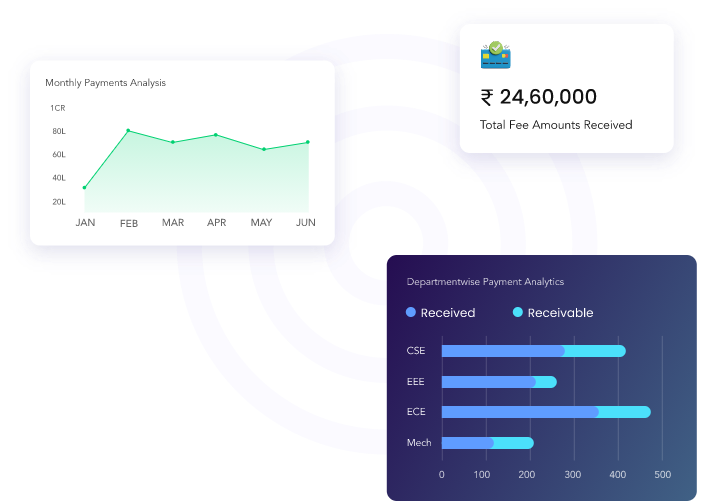 Data-Driven Insights for Student Housing
The Insights to Optimize Hostels feature in CampX leverages data-driven insights to enhance the management and operations of hostels within educational institutions by analysing key metrics such as occupancy rates, room allocation patterns, and facility utilization
Our Journey of Digital Transformation in Colleges
Join us on this extraordinary journey of digital transformation and be inspired by the endless possibilities that lie ahead. Together, let's reimagine the future of education and empower the next generation of learners to thrive in an ever-changing world.
At CampX, we believe in the power of collaboration and fostering strong partnerships. We have established strategic alliances with leading technology providers, payment gateway providers, banks, and industry experts to provide comprehensive solutions to higher education institutions
Frequently asked questions
Please note that the FAQs provided here are general in nature. For specific inquiries or further details about CampX Square, it is recommended to reach out to the CampX team for personalized assistance and information tailored to your college's requirement.